Ecommerce has long been the channel of choice for emerging entrepreneurs. With the many ecommerce channels and online shop platforms available on the market, there are these considerations as you choose one of these channels to open a shop: the longevity of these channels, developmental outlook, etc. In fact, if a brand can be deployed ahead of future trends, it is bound to ride that wave and win business opportunities.
This article addresses the 4 issues that start-ups often encounter when opening online shops. We have provided 4 different recommendations to support you in riding today's wave of ecommerce. Let's take a look!
Q1: From which ecommerce channel should I choose to open an online shop?
For those who want to open a shop online; articles on how to choose ecommerce channels, comparison of various store opening platforms, etc. have been read countless times, and one must have considered budget, human resources, and even usage habits to evaluate the best fit ecommerce platform. Having already decided on starting a business online, we need to bring to your attention the most commonly encountered DNVB (Digital Native Vertical Brand, or Web Native Vertical Brand) in recent years.
DNVB is mainly born out of the Internet. Sales and shipments are all managed by the brand directly. This is a business model that vertically integrates production and sales resources, utilizes website data, accepts customer feedback to improve products, transparent prices, and fast delivery, all of which fully meets the modern consumer's habits and needs. As a first choice business model for many online startup brands, DNVB has also helped many brands around the world successfully gain popularity.
With the DNVB model, sales channels are aplenty. One of the common DNVB sales models is through fully utilizing the direct-to-customer (D2C) model, establishing close brand intimacy with direct customer interaction. For these brands, the establishment of a brand's own website that focuses on D2C sales is more in line with this business model and can also bring growth breakthroughs.
For example, there is a DNVB that focuses on the D2C sales model: Igloo Products Corp. Igloo Products Corp. has more than 1,500 employees and annual revenues of hundreds of millions of dollars. They established the D2C ecommerce department in 2017 and in 2 years' time saw the department's ecommerce revenue triple and website traffic grow by 2.4 times. That is some significant growth.
Q2: How can I sell goods well through an online shop?
Whether goods sell well is bound to be related to the buying habits of consumers. Therefore, understanding consumers has become one of the most important tasks in starting an online shop, involving collection of consumer data, consumer communication channels, the use of marketing models and other aspects.
From the case mentioned, it can be found that DNVB is characterized by optimizing products through data, integrating production and sales resources, and interacting with consumers through the D2C brand's website in creating good sales results. Therefore, if you want to sell products well, choosing a brand ecommerce website that matches with the current ecommerce trend is a major point.
The brand ecommerce website also needs to have the features that allow collection of own website data and direct communication with consumers. A fully functional online store needs to have diversified marketing resources to plan marketing strategies. SHOPLINE is widely recognized by users on this part which can be seen from the seller feedback. Various analytics from the Shoplytics can provide data reference to online shopkeepers, and provide insights into consumer behavior through graphical data. Coupled with diversified message transmission through the Broadcast Center, to segregated consumer groups and finally, application of various practical marketing models, the platform allows to effectively communicate with consumers and create good sales results.
Q3: Does having a social media presence help online shop sales?
The development of social media platforms in recent years has also profoundly affected this generation. Now when it comes to entrepreneurship and brand building, owners will generally establish a social media fan page, and they face the dilemma: the good old days of high organic reach are gone. .
According to RivalIQ statistics, the average Facebook post engagement rate was 0.17% in 2017, and dropped slightly to 0.16% in 2018. However, since Facebook updated its policies and algorithms in 2019, the average post engagement rate dropped to 0.14%. As of this year (2020), it has even fallen to as low as 0.1% (0.09%), and the retail industry's engagement rate is 0.08%.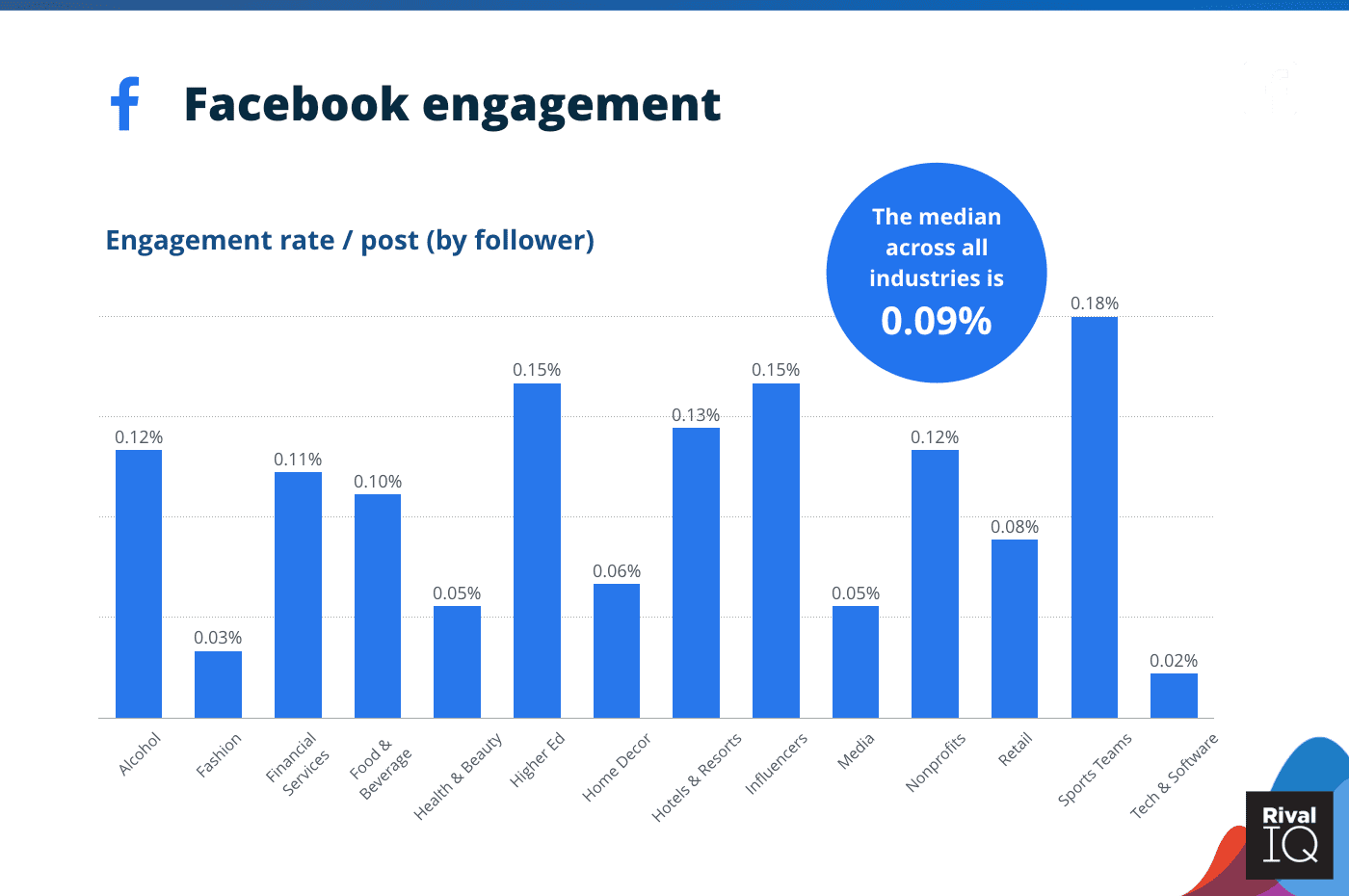 Figure 1. Facebook engagement rate of each industry in 2020 (Image from RivalIQ)
As such, many brands that have just started online shops and established fan pages, have started to evaluate whether it is worth the time and effort to run a fan page, and whether social media can really bring in orders.
Nowadays, consumers' shopping behaviors are very changeable, seeing obvious differences from consumption habits to consumption channels. In particular, social media shopping has been relatively increasing. According to the TWNIC (2019) market survey results, Taiwan has nearly 50% of consumers engaged in social media shopping. While social media interaction rates have generally decreased, consumers are still buying through social media. How?
Reason 1. "Instant interaction" shopping format prevails
The strong interaction and guided shopping influence of social media e-ommerce has created many quick and direct shopping forms (such as livestream broadcast shopping). Group-buying , affiliate marketing and of the likes have also attracted orders through the guided shopping influence of social commerce. As well, this influence, extending through the emergence of KOL directed livestream broadcast shopping, influencers directed livestream broadcasts of overseas brands and other sales methods, have made consumers who are tired of ordinary posts to pay more attention to brands' fan pages sharing new forms of interaction. This fast and instant interactive sales model, is just in line with the shopping preferences of current consumers.
Reason 2. When mobile app usage converts into shopping behavior
In the era of a mobile phone in every hand, not only has shopping behavior shifted to the Internet, but also significantly towards mobile devices. According to a survey conducted by Hootsuite and We are Social (2020), the Taiwanese spend 4 hours on a daily average surfing the Internet on their mobile phones, either visiting ecommerce shops or lingering on social media platforms. When social media platforms are also available for shopping, consumers will rely more on the entertainment and shopping functions brought about through these platforms. In view of this growing customer demand, Facebook launched the Facebook Shops in 2020. Therefore, the popularity of mobile devices and the Internet has not only turned ecommerce mobile, but also allowed the growth of social commerce.
Reason 3: The speed of social media monetization and viral information spread
The cost of acquiring customers through social media ads is increasing year on year, but through the autonomous social media monetization, new customers can be acquired at a lower cost. The Facebook algorithm changes in 2019 allowed for posts aimed at relatives and friends to be more likely exposed on personal news feeds and content that relatives and friends are interested in will also have the opportunity to be exposed in everyone's social media.
Imagine that when a friend follows a livestream broadcast of a certain brand and shares it on his/her own social media. Up till then, you may never have followed any livestream broadcast brand before, but you gain new brand awareness because of your friend, and even curiously watch the livestream broadcast. This viral information spread through social media also allows many social media transactions to occur, and speeds up the process of social media monetisation..
The above three reasons must be established on the premise that the brand has a solid social media presence. Without followers on social media, the word-of-mouth interaction will of course be reduced, let alone social media guided shopping. So, a level of social media presence at this stage, is a marketing operation that every online shop owner must plan for, which can not only accelerate the social media traction of the online shop, but also accumulate the trust of consumers and create more potential social media ecommerce business opportunities.
In summary, how does social media help online shop sales? That is to keep up with developments of the social media ecommerce trend, and to persevere in maintaining a social media presence, in order to create more connections between social media and the brand's website. This takes some time to see the results.
Q4: Is the ecommerce market saturated? How to expand through business opportunities?
Some people think that the ecommerce market in Taiwan is saturated, while others think that the ecommerce market is not yet saturated but only trending towards the development of "content ecommerce". From the above three reasons laid out, the current development trend of ecommerce is consumer-oriented regardless of whether the market is saturated or not.
The concept of omni-channel online and offline integration covers all the above issues. Whether it is the establishment of the brand's website, the social commerce, etc., operating the brand "humanly" as the starting point mindset will still be the development of ecommerce in the future. Starting with an online store, there are multiple directions for business expansion namely expanding into physical channels when you reach a certain level of business, or going overseas when your brand garners fame.
Regardless of whether the business structure goes into physical channels or cross-border channels, first and foremost solid branding needs to be executed well. The most intuitive manner to achieve this is to start from consumers and produce content they want to watch. To build brand influence, we suggest starting with the content of the online store's website, enrich the content of each page to match the brand's original intentions and ideas, as well as your own understanding of consumers.
Take AMOUTER for example, using SHOPLINE's "advanced page" function to easily drag and drop beautiful layouts, to match fonts with graphics, and product recommendation placements to complete article posts that integrate the product category page with content in the form of a hiking journal. Finally, they also made full use of SHOPLINE's SEO optimization settings, so that their product category pages achieve good performance in the Google search engine. Try searching for "Qicai Lake" and you can see AMOUTER's website listed in the top searches.
Figure 4. AMOUTER's product page is presented in the form of travel journal notes that are eye-catching and serve as shopping guides.
Through creating "consumer-oriented" content , AMOUTER has grown their online shop rapidly, in turn steered themselves towards physical store business opportunities. Consumers attracted by their high-quality content often convert into loyal followers of the brand, attracting further consumer potential and business opportunities from the already saturated market. Notably, AMOUTER won the Best O2O Marketing Award in 2020's SHOPLINE Outstanding Style Brand Awards.
In addition, SHOPLINE provides online and offline integrated functions and cross-border ecommerce services, to allow brands with potential to develop more markets and connect with global ecommerce through high-quality brand content.
Conclusion
After reading the above four questions, are you still considering opening a shop online? In fact, the current development trend of ecommerce is none other than a combination of D2C branded ecommerce, social commerce and consumer-oriented omni-channel. As long as these ecommerce trends can be deployed and planned in advance, there is certainly a chance to win more business opportunities.
With all that's been said, if you want to open a shop online, hurry up to sign up for a free trial with SHOPLINE, simply take 3 seconds to enter your e-mail and start your brand ccommerce journey immediately!