Without consumer data to track, will sellers still advertise? At last year's WWDC(2020), Apple introduced the "anti-tracking" feature to arrive with the newest iOS 14 operating system, and this announcement seems to be a heavy blow to the digital advertising industry. If you are a Facebook advertiser, you may have noticed that Facebook has taken precaution and released a series of measurements to circumvent this new user privacy feature since mid February 2021. In the face of the huge global market of iOS users, how should e-commerce sellers respond?
This article will cover the content of this new privacy feature of the Apple iOS 14, dubbed ATT (App Tracking Transparency), understand the global social media giant's – Facebook, views on this feature, and how sellers should respond in face of this update. 

Here is a summary: 
What are the updated components of Apple's ATT?
The latest privacy update in Apple's iOS 14 aims to mainly enhance user privacy and to restrict the "IDFA" (Identifier for Advertising) that tracks user data. iOS 14 uses additional apps to track transparency through the App Tracking Transparency (ATT) framework, requiring all apps to seek user consent before collecting data around user activity. For app developers who do not comply with this ATT policy update, Craig Federighi, Senior VP of Software Engineering at Apple, also said in an interview with foreign media: "If app developers do not play by the rules of the ATT framework, their app could be removed from the Apple App Store."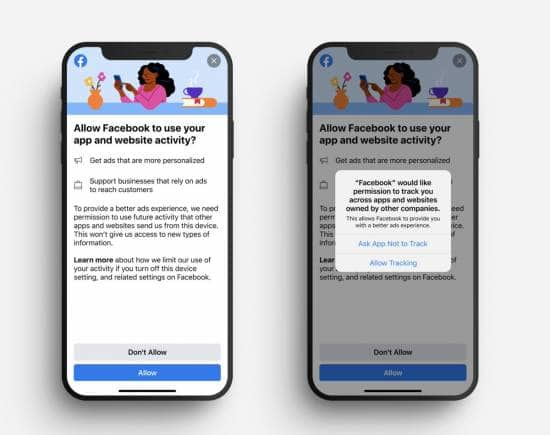 Figure 1. After the iOS 14 privacy policy updates, the app will ask the user whether or not to accept opt in to tracking. 
In short, as part of the iOS 14 privacy policy's purpose to protect the rights and interests of users, when users open an app, they will be sent a pop up notification asking whether they give consent to be tracked. As long as the user chooses the option "Ask App Not to Track", companies will not be able to collect accurate user data (including purchased items, contact information, customer identification code, customer location, etc.) through these apps. Contrary to the past where all apps operated with "default tracking" unless users (less than 10%) actively disabled this tracking function, this new policy update means that "default tracking" no longer exists.
What impact does the iOS 14 IDFA restriction have on e-commerce sellers?
To put it simply, digitalization has been applied, in the era of big data, to consumer behavior for analysis used in advertising delivery and even in brand design. This access to iOS user data brings considerable challenges to brands and advertisers that obtained consumer behavioural information through data collection from apps. Needless to say, Facebook, as an app developer, is the first platform to bear the brunt, and has made some changes at the level of their advertising business. 
Perhaps e-commerce sellers still find all this is very abstract, unable to grasp the link between iOS updates with Facebook tracking. First, we will explain the concept of IDFA mentioned above. You can think of IFDA as an identification code bound to the iPhone (By the way, this update is specific to the iPhone-based iOS operating system, and inapplicable to the Apple computer-based MacOS operating system!); which major companies and platforms use to track information of the iPhone user. So, if you choose not to allow tracking on the Facebook App, then the iPhone that you are using will determine those websites and apps embedded with Facebook-related tracking codes (such as Facebook Pixel, Facebook SDK) and disallow them to obtain your personal information through your IDFA.
Therefore, when Facebook is unable to collect information from iPhone users, how will e-commerce sellers that run Facebook ads be subsequently impacted? Let's examine the following in detail:
1. Analysis report delay: "Real-time" reports are not supported, and data delivery may be delayed up to about 3 days.
2. Analysis reporting on demographic data (on age, gender, region, and current location) is no longer supported.
3. The attribution window will be changed; such that the attribution window for ad data tracking adjusts from "28-day click-through/view-through" to "7-day click-through/view-through", and "1-day of viewing the ad" remains unchanged. These changes may result in underrated advertising effectiveness.
Attribution window options are now available:
1-day click
7-day click (default)
1-day click and 1-day view
7-day click and 1-day view
4. Conversion Events: 8 conversion events are listed in order of priority. If the user does not agree to information sharing, Facebook will only receive information about one completed conversion event (the highest priority event) after the user clicks on the ad. 
Figure 2. The iOS 14 privacy policy will limit the number of events returned to Facebook for conversion
5. Target audience: The target audience size will be reduced, reducing ad reach, which will affect customized audience settings, retargeting and potential consumer development.
In view of this, Facebook took the lead in "responding" to this Apple update on major media platforms at the end of last year (2020). Facebook stated that every month, thousands of small and medium-sized entreprises (SMEs) use digital advertising tools to reach potential consumers. The implementation of IDFA restrictions will reduce the accuracy of advertising delivery and affect the effectiveness of advertising conversion for SMEs.
Figure 3. Facebook has spoken for SMEs a few days ago and proposed an updated strategy in response to the new iOS 14 privacy policy
According to Facebook's research, without personalized advertising supported by self-generated data, small business advertising may reduce website sales by more than 60%, and it is expected that the changes in iOS 14 may lead to the disappearance of personalized features in the long run.  
The Facebook Audience Network team also tested, back in June 2020, that advertiser revenue resulted in a dip by more than 50% when personalized content is removed from mobile app advertising campaigns, and actual effect on the Audience Network on iOS 14 may be greater. Thus, delivery and accuracy of new consumers to small businesses that rely on social media advertising will decline, and the ads seen by iOS users will be more random than in the past.
How should e-commerce sellers respond?
In view of this, what preparations can sellers do to respond? Would it be to stop advertising? For measure of precaution and to reduce the impact of the iOS 14 update on e-commerce sellers, we have outlined below 4 must-do actions in response to this updated privacy policy
1. Perform domain verification on your brand's official website
Due to this policy update, Facebook needs to request permission through Apple's ATT framework to measure conversion events that occur on iOS 14 devices. As users gradually opt out of the "tracking" function on iOS devices, performance analysis reports on ads and apps optimized for personalized conversion events are limited. The biggest difference is that in the past, the number of Facebook pixel events that can be installed did not matter, whereas now, each domain is limited to 8 Facebook pixel events and the priority of conversion events needs to be arranged. Particularly critical is the first ranking conversion event because when the user selects to disallow tracking, only the primary conversion event will be sent to Facebook. 
When you are creating an Ad Set, you can only select 8 specified conversion events optimized for personalization. Domain verification establishes which Business Manager account has the authority to configure and prioritize the specified 8 conversion events for the given domain. Thus, domain verification can prevent the ad delivery from being affected in the long-run by the iOS 14 update. In the future, Facebook will also launch tools to support advertisers in sorting events.
Therefore, we recommended that merchants take the following steps to verify your domain (for brand sellers who have multiple business management platforms or personal advertising accounts using pixels, domain verification is very important!):
To ensure the authenticity and safety of interaction between consumers and e-commerce sellers in the community, Facebook recommends that sellers complete the steps of Facebook "business verification" and "domain verification" to ensure the management authority of your website.
After business verification is complete, you can obtain domain verification on the Business Manager account platform and further apply to Facebook to register for Instagram shopping, to manage the content shared by the URL on Facebook, and other functions. For this process, please refer to the following instructions.
Domain verification step 1. Obtain the Facebook domain Meta-tag verification code
Log in to your Facebook Business Manager account platform first. If you have not yet established or do not own a Business Manager account, you can refer to this article.
Domain verification step 2: Add your domain on the Business Manager account platform
After logging in to the Business Manager account platform, click "Business Manager account Platform Settings→Brand Security→Domain" and click the "Add". (See Figure 4)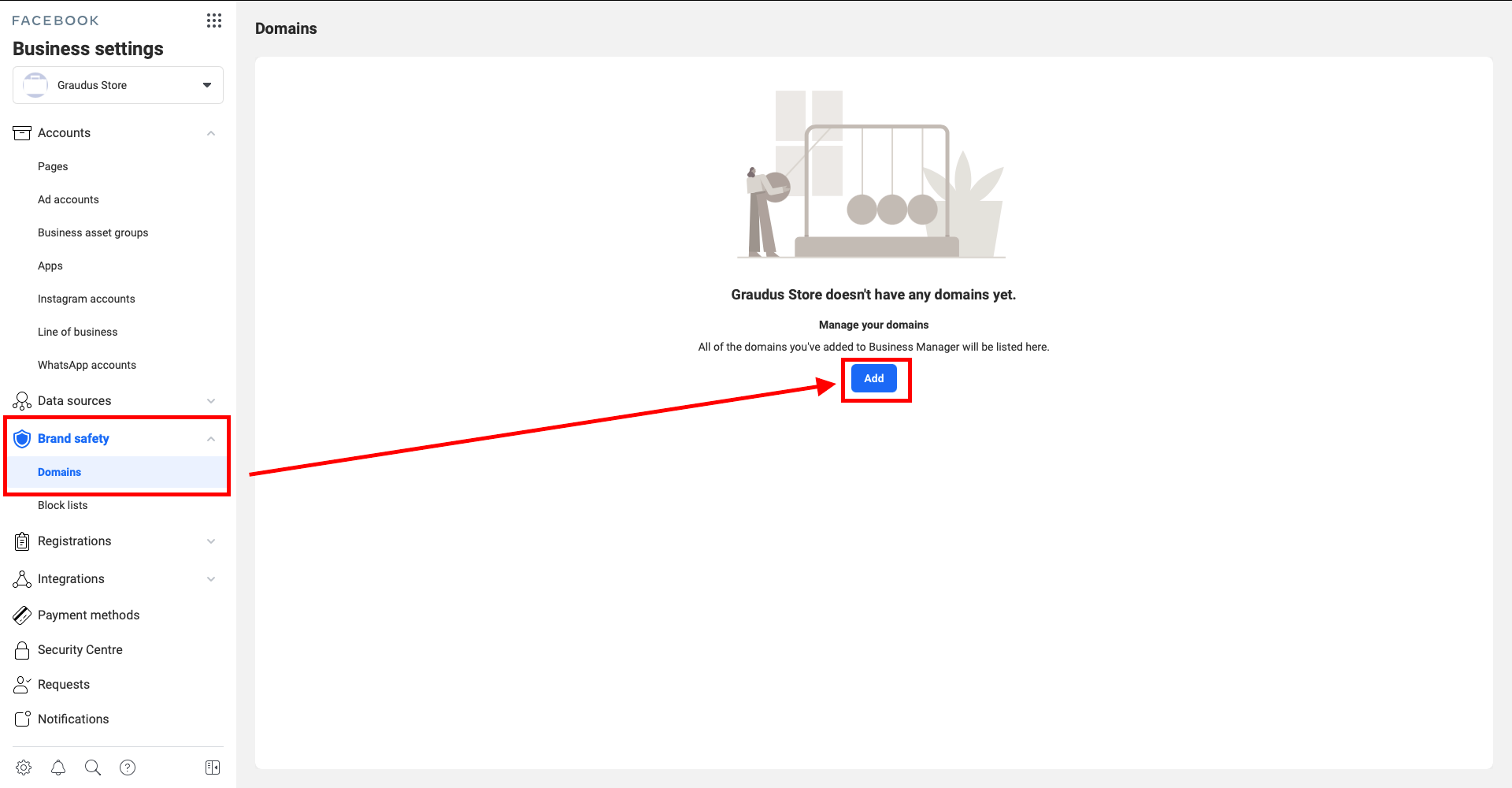 Figure 4. Click "Business Manager Settings→Brand Safety→Domains" and click "Add" to add the domain to be authenticated and input your brand's official website domain address in the window.
After input, click "Add Domain". If your shop's website URL is https://www.abc.com/, input abc.com in the window field. (See Figure 5)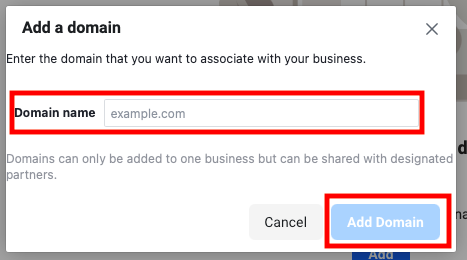 Figure 5. Paste your official website URL in the domain name
Domain verification step 3: Obtain the Meta-tag Verification code
After clicking "Add Domain", click the given domain's Meta-tag Verification Method and copy the alphanumeric code found in the middle of "Content". Do not copy the code before and after the English and quotation marks. (See Figure 6)

Figure 6. Copy the Meta-tag Verification Code (as shown in red box from the figure)
Domain Verification Step 4: Return to "Basic Information" in shop's "Settings"
After copying the code, go back to SHOPLINE's admin panel, click "Settings → Basic Settings" on the left, and paste the copied code in the Facebook domain verification section (see Figure 7 for details). Click "Save" to complete.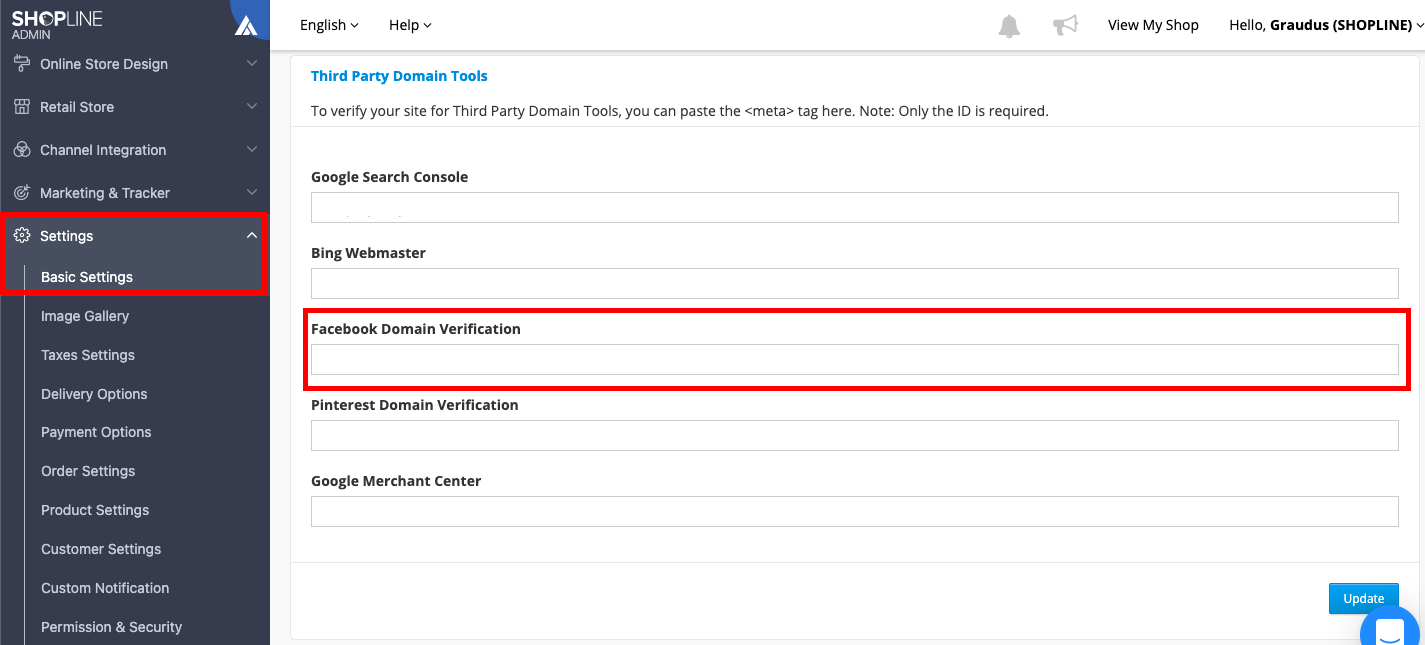 Figure 7. Paste the copied code in the Facebook domain verification section
Domain verification step 5: Paste the code and click "Update"
In the "Facebook Domain Verification" field, paste the alphanumeric code from the middle of the Meta-tag Verification "Content". Then click the "Update" button in the lower right corner to save and complete. (See Figure 8)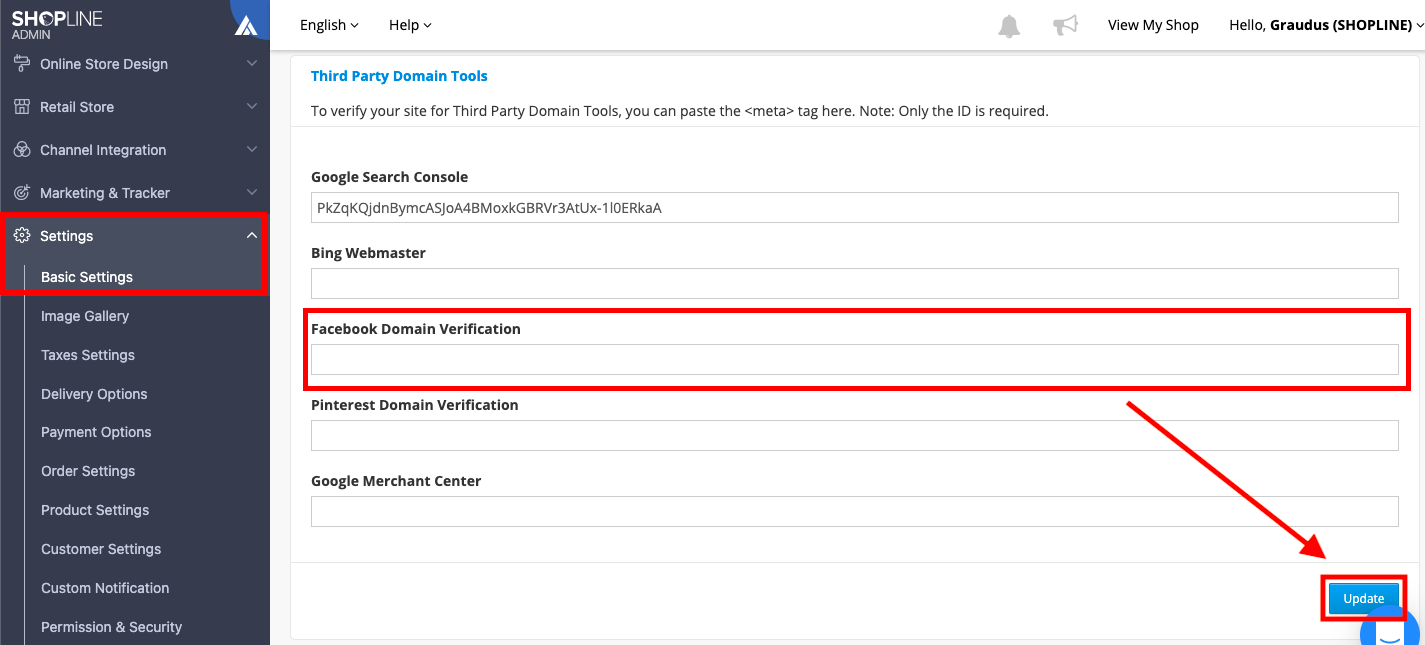 Figure 8. After pasting the code, be sure to click "Update" in order to save and complete the domain verification
Domain verification step 6: Confirm domain verification 
After saving, go back to the domain set up in the Facebook Business Manager again and click "Verify" under "Meta-tag Verification" to complete the verification. (See Figure 9)

Figure 9. Return to the "Verify" button in "Meta-tag Verification" on the Business Manager account platform
The domain should be verified successfully at this point! Displayed next to the original domain, you will see the red light also change to a green light, meaning that the current domain has been verified. (See Figure 10)

Figure 10. After successful domain verification, the light next to the domain will turn green
Once the above steps are completed, the domain verification is completed, and Facebook also highlights that the domain verification must be completed from the valid eTLD+1 domain to ensure all versions of the domain are covered. For example, if the domains are www.blog.shopline.tw, blog.shopline.tw and shopline.tw, the eTLD+1 domain will be shopline.tw. Given that many brands run as subnets under "region (.) brand" under multi-site operations, special attention is needed in this process. If there are more than 8 optimization events for a single domain, ad campaigns will be suspended, and there is currently no troubleshoot recommendation provided by Facebook (this article will be updated in the future as Facebook introduces further troubleshoot support on this). 
2. Turn on the Facebook Conversions API
In view of the limited "web events conversion", it is recommended to use Conversions API first to accurately optimize data. According to Facebook, Conversions API has the following three advantages:
This is an alternative medium to record customer behavior. It can work with Facebook pixels to enhance the accuracy of data calculation and optimization. There should be no worry about the event being lost from browser crashes or ad blocking programs. 
SHOPLINE is a partner of Facebook. In August 2020, SHOPLINE has directly integrated with the Facebook Conversions API, through the Facebook Business Extension (FBE). To put it simply, the biggest advantage of the Conversions API is that when the website domain or browser is too slow to load or open, or the user's end has blocking data capture functions such as IDFA, Conversions API can be directly sent from the website back-end to Facebook, effectively alleviating this problem. Additionally as a safeguard measure, the domain verification in the previous step is to ensure that the Conversions API setting will be unaffected.
3. Prepare ahead for changes in "Attribution Window"
Brands that are delivering advertisements must prepare for the Attribution Window changes as part of this round of iOS 14 privacy policy update. The advertisements previously set up have the function of "Comparing Attribution Windows". This allows you to understand the resulting conversions attributed to ads under different Attribution Window periods, which can help advertisers make more accurate prediction reports for changes in the number of conversions when the Attribution Window changes to 7 days.
Brands can export any required historical data during the 28-day view or click and 7-day view Attribution Windows. Even after the changes take effect, brands can still access the historical data through the Ads Insights API Report.
4. Growing your brand following and cultivate fans
Finally, the fundamental way in running and growing your brand following begins from grappling with "privacy protection". When consumers have a sense of trust in the brand, they will even proactively provide personal information to the brand, and are more receptive to the brand's communications, content and ad campaigns. 
SHOPLINE's CRM system will enable member tagging in order to organize members by filtering various conditions, so that brands can actually understand members' needs and effectively communicate with consumers in the era of digitalization.
Conclusion
Regardless of the uncertainty around Apple's iOS 14 privacy policy update, SHOPLINE recommends that sellers prepare ahead following the above methods to ensure that the effectiveness of future advertisement delivery will not be greatly affected. In the era of an omnichannel marketplace, consumer data is ever more important to sellers while it is also the consumers' right to personal privacy protection. Therefore, achieving a balance between the two will be one of the key considerations for sellers to take, in staying on trend when it comes to running their brands successfully.