On your path to entrepreneurship, are you still looking for an online shop platform? With the rise of ecommerce, sellers with good products often use ecommerce websites as their sales channel. Among the many ways to start an online shop, sellers often stagnate in the selection stage. As for you who want to open an online shop, has this been the case for you?
The SHOPLINE team has visited stores in various industries in recent years. We listened to entrepreneurs' ideas, understood their hard work in starting a business, tried to get closer to their lives, and assisted them in the process of opening an online shop. Serving as their backup, SHOPLINE has gradually learned about the considerations and ideas of these entrepreneurs who started their businesses and opened stores. What are the problems they encountered and what factors they care about? Finally, what made them choose SHOPLINE as the online shop platform over others? 
Therefore, we have compiled the content that stores had shared with us, and listed out 7 reasons why they chose SHOPLINE in establishing their own brands and opening online shop.
7 reasons to choose SHOPLINE for your startup
Nowadays, young adults are increasingly investing in the field of online entrepreneurship and to realize their entrepreneurial dreams through the power of the Internet. Most entrepreneurs do not have large sums of cash available to invest in their businesses. For them, every penny counts, accumulating industry knowledge and skills through daily life and following the market trend; are all musts in growing their brands. Thus, a simple and easy to understand selection process greatly reduces their time cost, and enables more time for entrepreneurs to run and manage their brands.
And SHOPLINE has the following characteristics, which are very suited to entrepreneurs who want to open a store online, and which also allow those who are still choosing a store platform to evaluate whether SHOPLINE meets the needs of their startup business. Let us take a look!
1. Simple and smooth operation – Intuition is your superpower
In starting your own business, every minute is very precious. An overly complex user interface can become frustrating to entrepreneurs who use the shop platform for the first time, unclear where to set up the functions. Here at SHOPLINE, our interface is intuitive and streamlined, without too many fields and options. Even if the function settings are unclear, you can also inquire through the FAQs on our website or through the instant message plugin at admin panel , effectively saving your time. If this is not enough, you could also hire a dedicated ecommerce team member to assist you in taking your shop online.
2. Streamlined logistics and payments solutions – Leave the trouble to us
For people who want to sell online, the logistics part is often the most troublesome, so it is better to have a platform to assist in the handling of it. A self-hosted website often comes with downsides namely inconvenient goods delivery/pick up, insecure payment methods, etc., all of which could make potential consumers skeptical.
Particularly with Singapore's ecommerce market, convenient parcel pickup and trusted payment gateways are a must! To have these technologies streamlined with your store independently can be time consuming, and SHOPLINE's streamlined logistics and payment solutions eliminate the need for time to spend on negotiating with the suppliers. All the integration and connection tasks have been done by SHOPLINE for you. 
3. Reasonable pricing – Become a budget control master just like that!
For most entrepreneurs, the startup budget control is the biggest challenge and consideration, because every penny spent feels dear. At the same time, they also hope that the cost of investment will have a higher return. On that note, SHOPLINE ecommerce platform's pricings are reasonably realistic, greatly reducing monetary costs such that more budget can be spent on brand management. To entrepreneurs, the ecommerce option that does not break the bank is the one for starting a business.
Contact us now to know more about our plans!
4. Constant new features development – Speed is the key to success
If you are a self-hosted website, customized functions are inevitably required and its set-up takes time, manpower and money. In some cases, even an available budget does not necessarily make the website's function set complete. 
If you spend money to buy a solution by joining an ecommerce platform and yet, there may be a bunch of functions that you don't know how to operate, or you want a certain function but the platform hasn't launched yet.
Regarding this point, don't worry, many SHOPLINE stores can attest to the speed of new functions of our platform, and some of the new features even enhance operational efficiency. Some stores have praised that there were originally some functional requirements that the platform had not yet launched, but it didn't take long for these features to appear one after another, beyond their expectations.
In addition, SHOPLINE publishes articles on application of these features, and even provides demonstrations to shopkeepers through livestream broadcast to address all questions and troubleshooting. Through these resources, we hope that you can familiarize yourself with every function and application of our ecommerce platform.
5. Strong search exposure – So customers can see your website 
If you want to get traffic right after you set up a website, you must go through "advertising diversion" and "search engine exposure". When it comes to search engine exposure, SHOPLINE search engine optimization (SEO) setting itself is complete. The important elements of SEO can be set on the page: "title", "description", "keyword", "descriptive URL/slug", and ALT (picture attribute tag) for images, so that the overall website's SEO setting is more complete.
Even if you are not a marketing veteran, all entrepreneurs want to try to independently increase their website exposure. SHOPLINE Academy also shares content of advertising and SEO strategy, to offer you a learning channel on your road to entrepreneurship.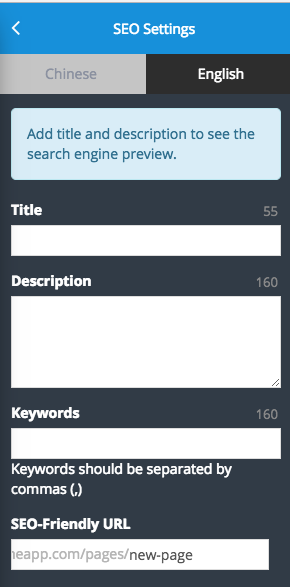 Figure 1. Important elements of SEO can be set-up in "Search Engine Optimization" fields
6. Easy layout design – We can all be web designers
Generally speaking, most entrepreneurs may work as a one-man band or with a few partners in the early stage, possibly without front-end designers and engineers among them. Therefore, it is very difficult to create a beautiful ecommerce website, even with partners who are engineers among them. Time and design effort are necessary in website production. Otherwise, business opportunities may also be missed.
SHOPLINE does not have a large number of highly customized layouts as a platform selling point. Instead, we provide enough shop layouts for shop owners to choose from with the drag-and-drop "advanced pages" design, to bring you the desired web page layout. Thus, entrepreneurs without engineer partners can also make good-looking websites. At the same time, the front-end web development (CSS) is also opened to adjust. If there are entrepreneurs who can code ​​and want to customize their own websites, that is also possible to build one's own ecommerce website. 
In terms of the overall website front-end design, there will not be too many fancy elements. Maintain a clean and tidy website layout, reduce the risk of consumers being attracted by too many elements, and make the user experience of each ecommerce website good.
Figure 2. The "advanced pages" function can be used to construct pages in a drag-and-drop manner
7. Abundant additional resources  – All up for grabs
SHOPLINE believes in the saying "customer's success is our success." When entrepreneurs open a shop through SHOPLINE, they will inevitably encounter various brand management and ecommerce operation problems. Therefore, SHOPLINE also provides additional assistance to the store in this section. See the following for details:
SHOPLINE Academy: SHOPLINE Academy focuses on ecommerce trends and marketing skills, including Facebook advertising operations, Google ads, ecommerce marketing planning, online shop operations and case studies, etc. We look forward to learning and growing together with the store owners, through article teaching to bring them ecommerce knowledge, and enable them to create their own ecommerce empires.
Professional Consultant: In response to the difficulties and needs encountered in brand management, SHOPLINE local consultants are here to share with the store owners necessary knowledge on diversified ecommerce marketing, operations and trend insights for business management to strengthen brand competitiveness. 
Figure 3: SHOPLINE provides ecommerce lectures/webinars for merchants
Through the above resources, we continuously receive customer feedback on SHOPLINE, refine the content of each project, so that we can make progress with entrepreneurs. We are excited to continue to bring you better content.
Conclusion
Given the above 7 reasons and if you are considering opening an online shop, why not give yourself a 14-day free trial with SHOPLINE for free and build your ecommerce official website one step at a time? You will not be surprised that SHOPLINE is your strongest and most dedicated support.